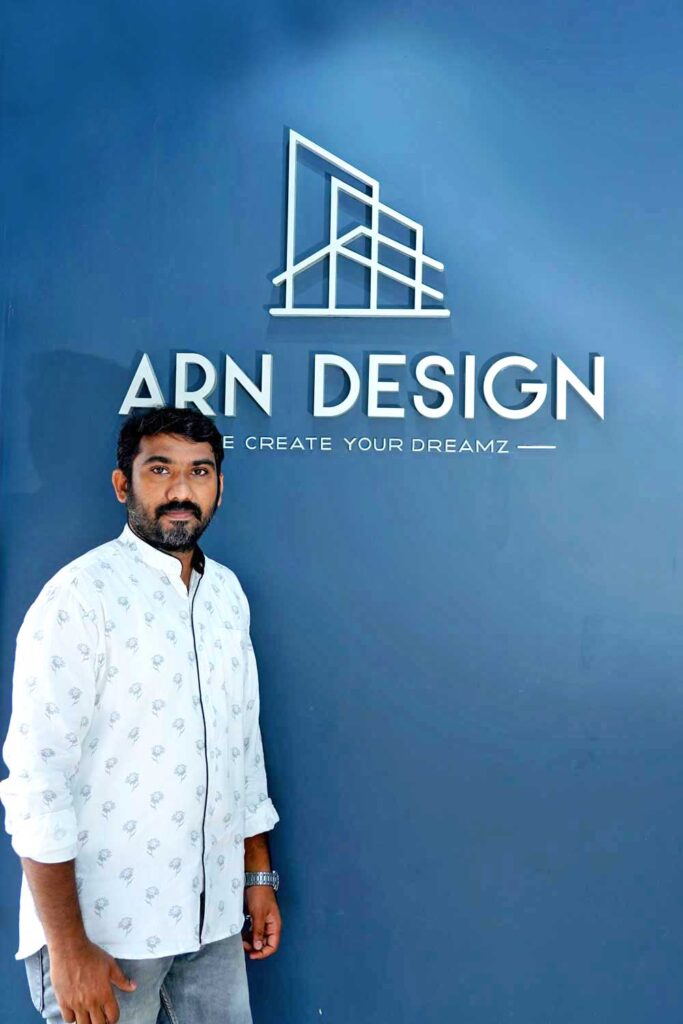 A Company Built on Commitment and Care
ARN Design is a Kerala-based Architectural and Construction firm founded by ARUNDAS V in 2014. Arundas has been known for his creative vision and dedication to safety and aesthetics in all of his building designs for past 16 years. He has had a hand in designing buildings for individual residences, commercial workplaces, including corporate interiors.
His designs emphasize maximum utilization of space, taking into account the placement of the sun and Kerala Vasthu, in order to maximize aesthetic appeal and decrease energy consumption. His designs implement the newest and most innovative in engineered materials to minimize the impact on the environment while also decreasing operating costs.
Arundas was promoted as Chief Designer at a reputed firm in the middle east, and he began to take on a larger projects, such as the designs of entire buildings and commercial complexes. His eye for practicality as well as his inspiring designs has landed him in his own firm and build an efficient team.
Our designs are unique in Concept, Innovative in style, bold in Execution and at the same time responsive to client's diverse requirements. We have involved in project such as individual residential development, commercial spaces, and corporate interiors and so on. We undertake and implement a range of products and services which includes Total Design Package, Interiors, Exteriors and Landscape.
We are specialized in Planning, 3D Exterior & Interior Designs, and Detailed CAD Services of Architectural, Structural, MEP Drawings.
We provide online service, with a philosophy of rendering quality design, supervision & execution of projects, while satisfying and accommodating the client's needs, requirement and budgetary consideration. We offer our clients, design skills thoroughly grounded on practical experience in design development, master planning, interior designing, site evaluation, project estimation, land surveying & vasthu Consultation.
Our Vision
Our Objective is to serve our clients to win their satisfaction with the quality in work, perfection of execution, promptness in performance and timely completion of projects.
Our Msision
Our mission is to give our Clients the most effective, efficient and beautiful concept for their architectural needs in the best and most friendly way possible. We give great attention to details and preferences provided by our Customers
Arun always finds the balance between good design and making the project enjoyable for the client. He is genuinely excited by the entire design process, down to the smallest detail. He had a beautiful vision, which has ended up being just right for our family and truly is our dream projects.
The service we receive from ARN Design is very good & efficient. Thank you for all your help and guidance. I found the service received to be very professional. They have been involved in the design from the outset and have been innovative and imaginative in coming up with a plan with which we are delighted. An exceptional service matched with an excellent quality of work.